General Architecture and Features in LabradorLife
Grids offer regions for the development and hosting of virtual worlds. LabradorLife currently rents two regions from OSGrid. In these regions, we have islands of land separated by open water. From a birds-eye view of OSGrid, various islands can be seen. With the correct co-ordinates, LabradorLife can easily be found. It is preferable however to set your point of entry as LabradorLife when you first enter OSGrid. This will then be logged as your default entry point. We will be using this feature to contain students in selected environments within LabradorLife. Most regions can be broken up into four island portions. Eventually, we would like each school in the research area to have its own island in addition to access to the two main regions we are currently developing.
Of the two regions we presently have, one is set aside for future development for specific schools in the research area. Only one section if this region is being prepared for use this year. We will discuss this experimental island below. The second region – our first region in chronological development – is where we have invested most development to date. Here we have two sections constructed on one large island, or mainland, piece of the grid.
We have been honing our skills at browsing other worlds hosted on OSGrid for ideas and artifacts to bring into LabradorLife. So at the moment LabradorLife is a hodge-podge of borrowed artifacts from other worlds, most of which are being developed in other parts of the real world – especially where the IT industry has deep roots. Hence, the current environment of LabradorLife looks and feels more like California than Labrador. As we become more versed in building our own artifacts from photographs and images we have gathered from Labrador, so LabradorLife will begin to take on a Labrador feel and appearance. Bear in mind also that everything presently in LabradorLife is in the process of being developed. There will be frequent small and large changes to the site as we hone the features we are designing.
The Welcome Centre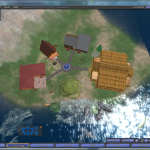 The Welcome Centre is a large section of the mainland devoted to experimental features of LabradorLife which we are in the process of developing as teaching aids. As such, the Welcome Centre has become our experimental laboratory where we launch features to explore their potential. The Welcome Centre is also the place where all users are introduced to LabradorLife: it is where people arrive when they come to our virtual realm for the first time. The main building in the Welcome Centre is a large, single story, L-shaped, glass walled room in which there is a desk, a conference table, several comfy chairs and a few other items. Visitors arrive at the desk. Positioned on the walls in the corner by the desk are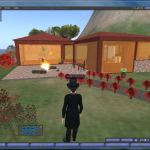 several billboards. The first, to the right of the desk, is our LabLife Blog page. Here we post any updates and changes that we are working on. Here too our collaborators can post their observations, comments, critiques and suggestions. The second billboard is a direct link to the official Labrador CURA web page. The third billboard is a list of all LabradorLife avatars, with their positions and contact details. We like to encourage our avatars to take on easily recognizable features when they first become members of LabradorLife, so that it is relatively easy for everyone to identify each other in the virtual realm. A list of member LabradorLife avatars is given below.
The Museum, Art Gallery and Reading Room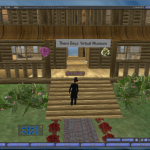 Outside the Welcome Centre's main building is a patio with a fireplace. Stop by the fireplace to hear it crackling, or take a seat on the patio to enjoy the view past the surf and out to sea. Around the corner of the main building is a garden with a fountain in a plaza. Take the path to cross the plaza and turn to the right. Here is a three storey building containing the Museum, Art Gallery and Reading Room. On the ground floor are two archaeological galleries set up to house virtually constructed artifacts from the two archaeological teams working as part of the CURA. On the right is the Stopp Gallery, and on the left is the Rankin Room.
Ahead is a staircase to the first floor. This is theArtGallery. We are designing this to house the artwork of students as well as that of local arts and crafts people. At the moment, for demonstration purposes, theArtGallerycontains a photographic record of Will's and Evie's Labradortrip taken in June 2011.
The second floor houses the Rollman Reading Room. Here we intend to have an interactive library containing reports, written documents, and facsimiles drawn from the CURA research. These documents will be accessible by clicking on the relevant title and opening up into either the documents themselves or a website that will give students access to these and related documents.
The Movie House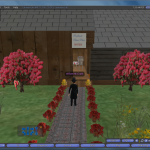 The Movie House is the wooden building to the left of the Museum. It has two rooms. The first room is being set up for showing movies to groups. There is an assemblage of chairs in this room where students can sit to watch a movies selected by their teacher. To select a movie from those available, click on the picture representing the movie and the movie will begin to play on the main screen in front of the chairs in the movie hall. This room will eventually have additional features that can be used in conjunction with movie-viewing activities, such as a virtual white board for connecting to web sites beyond LabradorLife. The second room in the Movie House allows individuals to play selected movies. Movies are accessed in the same manner but will play instead within their frames on the wall. Viewers in this room may wish to bring with them their own chairs!
At the moment, we have only two movies available. One is the 20-minute movie made by Chelsee Arbour, a student working with Marianne Stopp in St. Michael's Bay. The second is a short Xtranormal movie on the merits of LabradorLife made by Evie (it is a spoof of the popular Xtranormal mini movie 'Harper3 Government'). A problem we are currently addressing with showing movies is that an embedded feature of the OpenSim platform plays whatever has been selected throughout LabradorLife. This means that anyone entering LabradorLife will automatically hear any movie or music that has been selected for play in the Movie House. We are working on suppressing this feature, or changing the default setting. Stay tuned!
The Labrador Hall of Fame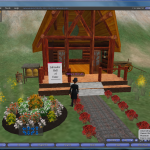 The Labrador Hall of Fame log cabin, rather like Dr Who's 'Tardis,' appears bigger on the inside than the outside structure would indicate. The Hall of Fame is designed to exhibit information about people of particular renown related toLabrador. We anticipate that this feature will be immediately usable for Grade 9 social studies classes, in which students are required to work on projects related to prominent local people. We anticipate, for instance, that students will be able to suggest people for induction into the LHoF which will then be adjudicated by a panel of student and teacher judges. Students will be able to research their own suggestions and lobby the panel and fellow voting students, giving their reasons why their subject should be selected for the LHoF.
At the moment, we have posted two examples: Captain Bob Bartlett, and George Cartwright. Each is represented by a picture on the wall. Clicking on the picture will reveal a series of resources on that person which students can access. These can include student essays, bibliographic materials, websites links, and documents all pertaining to the person in the picture.
The Teleporter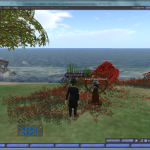 Wherever you may be in LabradorLife, it is possible to teleport to other selected regions within the virtual realm. Teleporting is accomplished by finding the ship's wheels that are located around the virtual environment. There is one located on the bank above the shoreline, to the left of the main building in the Welcome Centre. It should be visible from the fire pit patio outside the building. To teleport, click on the ship's wheel and select 'teleport.'. At the moment, there is only one other place you can teleport to in LabradorLife. This is Port Chance.

Port Chance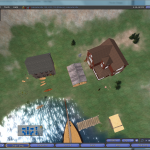 Port Chance was our original idea for LabradorLife and is being designed to represent a generic replica of a Labrador coastal village. Port Chance will be the initial point of entry for students coming into LabradorLife. Eventually most of the features presently in the Welcome Centre are will be moved to Port Chance, including the Movie House, the Labrador Hall of Fame, and the Museum, Art Gallery and Reading Room.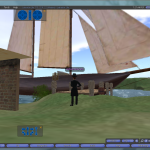 Port Chance was to contain a jetty with several boats which students could board to travel to other islands in LabradorLife. This mechanism may still be constructed and used to take students to the islands of other schools using LabradorLife. Other sites are possible too. But Port Chance will have all the features we design to be shared by all schools using the virtual realm. As such, it will become a key meeting place for students as well as a resource centre for class  groups to collaborate with each other and with other schools. Port Chance will also be the location of any gaming activities we design
Battle Harbour Experimental Island
There is one exception to the use of land in the second, schools reserved, region we are renting from OSGrid. That is the island we are developing for use by Mary's Harbour All Grade teacher Kathy Farrell and her grade 9 social studies class. Mrs. Farrell ran a project with her class last year that involved building a model of Battle Harbour, an historic site in the Lewis Bay area with a regular summer ferry for tourist which leaves from Mary's Harbour. She asked us whether it was possible for her class to build a replica of Battle Harbour in LabradorLife. We discussed the fact that the site was not yet ready to host students, for a variety of reasons, and solved the problem by designing seven guest avatar 'seats' for students to visit an isolated island within LabradorLife. Guest avatars for Mrs Farrell's class are under development as Snow White's famous seven dwarves, each wearing a yellow hardhat to indicate their construction tasks related to building their Battle Harbour replica. Visitors besides Mrs Farrell and her class will be restricted in this experimental zone for the time being.