About Our Project
Education 2.0
Computer generated virtual worlds are growing in popularity as recreational spaces. They present tremendous potential as new environments for education. Our development of LabradorLife aims to explore and exploit some of the educational potential that virtual worlds offer. Although the idea of Education 2.0 has been around for several years now, the use of virtual worlds as educational spaces is still emerging. Coined from the term 'Web 2.0,' which has come to mean the deeply interactive, intersubjective and distributed nature of the web, Education 2.0 refers to the increasingly socially mediated and interactive nature of learning in light of current information technologies. Education 2.0 is basically about using information technologies to enhance sharing and collaboration in education. It is also, and possibly more challengingly, about the equalization of education where students become teachers and vice versa in an open educational arena.
In an online discussion called 'The Future of Work,' Socialcast blogger, Mark Horton (http://blog.socialcast.com/education-2-0-social-networking-and-education/) describes the shift in education afforded by the internet as opening "the door to instant exploration of subjects and questions that haven't been available in the classroom before:
Students are now able to explore the ancient Egyptian pyramids using Google Maps, see updated facts and information on a wiki, or read a famous explorer's blog posts on their expeditions, all safely from their desks. Classrooms, schools and even districts are able to share and collaborate in private social networks, expanding collective knowledge and relationships to new horizons. The Internet has allowed education to expand past local resources, and draw from a vast library of knowledge that organizations and businesses are actively contributing to everyday.
Most schools are at what John Moravec calls the 'brick and click' stage. In his article 'Beyond Education 2.0' (Education Futures, 2008) Moravec suggests that the future of education lies with even greater interactivity and distributive potential, when the classroom – the 'brick' in his formula – eventually disappears entirely.
With LabradorLife, we are creating an educational platform that will enable students to meet as classmates, community members, and members of a larger regional, national and international society. We aim to enhance the social connectivity of their learning through an online virtual world that situates them compellingly in their own communities as a starting point. LabradorLife is about engaging students in their own local and regional histories so that making broader connections begins to make sense of their place in the world.
A virtual world environment such as provided by LabradorLife enables students to meet in an educational forum, and aims to engage students in learning through sharing and contributing in a nested set of social networking arenas.
In LabradorLife, teachers become fellow explorers with their students. Moravec's analysis shows clearly that Education 2.0 still requires accredited teachers who act as leaders in knowledge dissemination, which is of course regulated through the school board curriculum.
The Education Foundation of Britain suggests that many teachers are unsure of how to progress into the possibilities of interactive education, where students are much freer to explore and develop their own learning agendas. They provide useful pointers to help teachers weather the changes that are being heralded as an educational 'tsunami,' where "the students will be doing most of the driving anyway" (Scribed document 123260 'Education 2.0' 2007).
The Virtual World Environment, SecondLife and OpenSimulation
The virtual world environment, which we have chosen or our portal, is the most exciting format for the task we are addressing here. But it is also the most challenging. In becoming avatars, students are virtually situated in the educational forum we are designing. Eventually, both teachers and students will become full members and owners of LabradorLife, which means that they can continue to create, introduce, and select the teaching and learning strategies they want. Using a virtual world environment struck us as being the most promising environment for Education 2.0 and beyond.
However, much has still to be developed in using this format for the purpose of education. Some of these challenges are immediately apparent, while others begin to show themselves as we proceed. One of the first concerns we encountered was security. Another was cost. Educators using virtual worlds have by and large elected to work within SecondLife.  While SecondLife is one of the most sophisticated, richly developed and flexible virtual world environments in existence, it is also an open and relatively uncontrolled environment. Members of SecondLife are free to build any virtual environment and to explore all the realms its members create. We felt that such an open virtual environment was not the most suitable for students. A virtual world developed for educational purposes needs to have some controls in order to provide protection and security for its young users. In addition, although it has plenty of materials ready developed, some of which are freely available, SecondLife can rapidly become costly.
OpenSimulation is an open source (available at no cost) version of SecondLife in which members exchange ideas and share artifacts they have developed freely with other members. OpenSimulation is one of the creative engines for SecondLife, where ideas are explored and developed openly among users and members. OpenSimulation is not a commercial product with membership fees like SecondLife, but in almost all other respects, it is very much like SecondLife..
Our decision to opt for developing Labradorlife using the OpenSimulation platform was first driven by concerns over security. OpenSim allows us access to sections of virtual world where we are solely responsible for building the environment as we need. Students entering LabradorLife will only gain access to the parts of the virtual world we have built for them. Furthermore, the objects and environments we create and develop are free for members to explore: there are no fees to pay or purchases that need to be made. We have since found that the open source environment of OpenSim fits very well with our overall objective in developing LabradorLife as an Education 2.0 environment since the impetus for open source is sharing and collaborative development. In addition there is close and continued collaboration and co-operation between SecondLife and OpenSim. Far from viewing OpenSim as a competitor, SecondLife encourages the developments in this open source version of itself because it also benefits from the avid development that occurs in OpenSim. So, in opting to use OpenSim, we benefit from open source ware and have the chance to part of a growing and dedicated community of teachers and learners who are intent of sharing their knowledge and ideas. Given this pedigree, it is easy to see why we decided to call our virtual realm LabradorLife
However, that very openness has created significant problems for us. One of these is that we have to develop all the artifacts we need, especially if we want a Labrador-esqu environment for our target users, the students and teachers of Southern Labrador. A second is the issue of hosting. Both issues will be covered below.
Artifacts, Artwork and Construction of the Environment: Why doesn't LabradorLife look like Labrador?
Successful design and development of all features in any virtual world include the geographical environments, housing and other built structures, clothing and apparel, avatar appearance, artifacts and other objects. All these items need to be constructed. Working with computer graphic design takes a great deal of time and a growing array of specific skills involving the efficient use of specialized programs. Our team consists of two people who, although combined have extensive backgrounds and experience in an array of fields – Labrador history, Metis identity, ethnopolitics, gaming, web development, archaeology, archival work, ethnographic research, and Aboriginal education to name but a few of these – do not have sophisticated 3D graphic design experience. We have applied for and been granted a two-term Work-Study placement for an undergraduate student who has computer graphic design experience to help us with this part of the project, and we are in the process of finding a suitable candidate. This help should speed up the process of recreating a Labrador-like environment.
 Hosting, Grids, Security, Islands and Regions
OpenSimulation allows us free access to all the ongoing development represented in the virtual world environment: that is everything that the sophisticated membership of OpenSim offers as well as a significant amount of SecondLife material as well. But all virtual worlds need to be hosted on dedicated servers run and managed by qualified personnel. A server will provide the grid upon which the virtual worlds are based. In SecondLife, buying land can become exorbitant. In OpenSim, we need only to rent space on a suitable server. This in itself can become costly. We are currently renting space on OSGrid, which also hosts a number of other experimental virtual worlds. Although we are placed in a relatively empty part of the grid, it is still possible for enterprising students to find other virtual world environments on OSGrid. That is why we are in touch with colleagues at MUN DELTS who are working towards investing in a dedicated server for educational purposes. Another option lies with the Western School District, where another colleague and collaborator is in the process of acquiring a dedicated server for the use of the schools within the district. In both cases, LabradorLife would be one of the first projects to become part of the new dedicated educational grid.
General Architecture and Features in LabradorLife
Grids offer regions for the development and hosting of virtual worlds. LabradorLife currently rents two regions from OSGrid. In these regions, we have islands of land separated by open water. From a birds-eye view of OSGrid, various islands can be seen. With the correct co-ordinates, LabradorLife can easily be found. It is preferable however to set your point of entry as LabradorLife when you first enter OSGrid. This will then be logged as your default entry point. We will be using this feature to contain students in selected environments within LabradorLife. Most regions can be broken up into four island portions. Eventually, we would like each school in the research area to have its own island in addition to access to the two main regions we are currently developing.
Of the two regions we presently have, one is set aside for future development for specific schools in the research area. Only one section if this region is being prepared for use this year. We will discuss this experimental island below. The second region – our first region in chronological development – is where we have invested most development to date. Here we have two sections constructed on one large island, or mainland, piece of the grid.
We have been honing our skills at browsing other worlds hosted on OSGrid for ideas and artifacts to bring into LabradorLife. So at the moment LabradorLife is a hodge-podge of borrowed artifacts from other worlds, most of which are being developed in other parts of the real world – especially where the IT industry has deep roots. Hence, the current environment of LabradorLife looks and feels more like California than Labrador. As we become more versed in building our own artifacts from photographs and images we have gathered from Labrador, so LabradorLife will begin to take on a Labrador feel and appearance. Bear in mind also that everything presently in LabradorLife is in the process of being developed. There will be frequent small and large changes to the site as we hone the features we are designing.
The Welcome Centre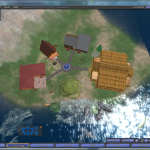 The Welcome Centre is a large section of the mainland devoted to experimental features of LabradorLife which we are in the process of developing as teaching aids. As such, the Welcome Centre has become our experimental laboratory where we launch features to explore their potential. The Welcome Centre is also the place where all users are introduced to LabradorLife: it is where people arrive when they come to our virtual realm for the first time. The main building in the Welcome Centre is a large, single story, L-shaped, glass walled room in which there is a desk, a conference table, several comfy chairs and a few other items. Visitors arrive at the desk. Positioned on the walls in the corner by the desk are several billboards. The first, to the right of the desk, is our LabLife Blog page. Here we post any updates and change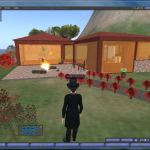 s that we are working on. Here too our collaborators can post their observations, comments, critiques and suggestions. The second billboard is a direct link to the official Labrador CURA web page. The third billboard is a list of all LabradorLife avatars, with their positions and contact details. We like to encourage our avatars to take on easily recognizable features when they first become members of LabradorLife, so that it is relatively easy for everyone to identify each other in the virtual realm. A list of member LabradorLife avatars is given below.
The Museum, Art Gallery and Reading Room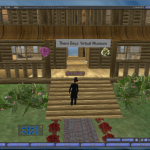 Outside the Welcome Centre's main building is a patio with a fireplace. Stop by the fireplace to hear it crackling, or take a seat on the patio to enjoy the view past the surf and out to sea. Around the corner of the main building is a garden with a fountain in a plaza. Take the path to cross the plaza and turn to the right. Here is a three storey building containing the Museum, Art Gallery and Reading Room. On the ground floor are two archaeological galleries set up to house virtually constructed artifacts from the two archaeological teams working as part of the CURA. On the right is the Stopp Gallery, and on the left is the Rankin Room.
Ahead is a staircase to the first floor. This is the Art Gallery. We are designing this to house the artwork of students as well as that of local arts and crafts people. At the moment, for demonstration purposes, theArt Gallery contains a photographic record of Will's and Evie's Labradortrip taken in June 2011.
The second floor houses the Rollman Reading Room. Here we intend to have an interactive library containing reports, written documents, and facsimiles drawn from the CURA research. These documents will be accessible by clicking on the relevant title and opening up into either the documents themselves or a website that will give students access to these and related documents.
The Movie House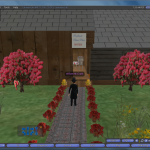 The Movie House is the wooden building to the left of the Museum. It has two rooms. The first room is being set up for showing movies to groups. There is an assemblage of chairs in this room where students can sit to watch a movies selected by their teacher. To select a movie from those available, click on the picture representing the movie and the movie will begin to play on the main screen in front of the chairs in the movie hall. This room will eventually have additional features that can be used in conjunction with movie-viewing activities, such as a virtual white board for connecting to web sites beyond LabradorLife. The second room in the Movie House allows individuals to play selected movies. Movies are accessed in the same manner but will play instead within their frames on the wall. Viewers in this room may wish to bring with them their own chairs!
At the moment, we have only two movies available. One is the 20-minute movie made by Chelsee Arbour, a student working with Marianne Stopp in St. Michael's Bay. The second is a short Xtranormal movie on the merits of LabradorLife made by Evie (it is a spoof of the popular Xtranormal mini movie 'Harper3 Government'). A problem we are currently addressing with showing movies is that an embedded feature of the OpenSim platform plays whatever has been selected throughout LabradorLife. This means that anyone entering LabradorLife will automatically hear any movie or music that has been selected for play in the Movie House. We are working on suppressing this feature, or changing the default setting. Stay tuned!
The Labrador Hall of Fame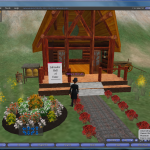 The Labrador Hall of Fame log cabin, rather like Dr Who's 'Tardis,' appears bigger on the inside than the outside structure would indicate. The Hall of Fame is designed to exhibit information about people of particular renown related to Labrador. We anticipate that this feature will be immediately usable for Grade 9 social studies classes, in which students are required to work on projects related to prominent local people. We anticipate, for instance, that students will be able to suggest people for induction into the LHoF which will then be adjudicated by a panel of student and teacher judges. Students will be able to research their own suggestions and lobby the panel and fellow voting students, giving their reasons why their subject should be selected for the LHoF.
At the moment, we have posted two examples: Captain Bob Bartlett, and George Cartwright. Each is represented by a picture on the wall. Clicking on the picture will reveal a series of resources on that person which students can access. These can include student essays, bibliographic materials, websites links, and documents all pertaining to the person in the picture.
The Teleporter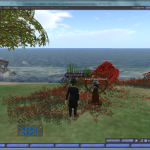 Wherever you may be in LabradorLife, it is possible to teleport to other selected regions within the virtual realm. Teleporting is accomplished by finding the ship's wheels that are located around the virtual environment. There is one located on the bank above the shoreline, to the left of the main building in the Welcome Centre. It should be visible from the fire pit patio outside the building. To teleport, click on the ship's wheel and select 'teleport.'. At the moment, there is only one other place you can teleport to in LabradorLife. This is Port Chance.

Port Chance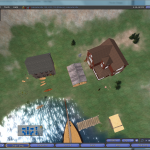 Port Chance was our original idea for LabradorLife and is being designed to represent a generic replica of a Labrador coastal village. Port Chance will be the initial point of entry for students coming into LabradorLife. Eventually most of the features presently in the Welcome Centre are will be moved to Port Chance, including the Movie House, the Labrador Hall of Fame, and the Museum, Art Gallery and Reading Room.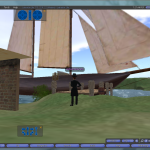 Port Chance was to contain a jetty with several boats which students could board to travel to other islands in LabradorLife. This mechanism may still be constructed and used to take students to the islands of other schools using LabradorLife. Other sites are possible too. But Port Chance will have all the features we design to be shared by all schools using the virtual realm. As such, it will become a key meeting place for students as well as a resource centre for class groups to collaborate with each other and with other schools. Port Chance will also be the location of any gaming activities we design
Battle Harbour Experimental Island
There is one exception to the use of land in the second, schools reserved, region we are renting from OSGrid. That is the island we are developing for use by Mary's Harbour All Grade teacher Kathy Farrell and her grade 9 social studies class. Mrs. Farrell ran a project with her class last year that involved building a model of Battle Harbour, an historic site in the Lewis Bay area with a regular summer ferry for tourist which leaves from Mary's Harbour. She asked us whether it was possible for her class to build a replica of Battle Harbour in LabradorLife. We discussed the fact that the site was not yet ready to host students, for a variety of reasons, and solved the problem by designing seven guest avatar 'seats' for students to visit an isolated island within LabradorLife. Guest avatars for Mrs Farrell's class are under development as Snow White's famous seven dwarves, each wearing a yellow hardhat to indicate their construction tasks related to building their Battle Harbour replica. Visitors besides Mrs Farrell and her class will be restricted in this experimental zone for the time being.
Future Plans for LabradorLife
We are working on several ideas for LabradorLife. These include:
a)        Labrador Trivia Question Bank
b)        Ways to incorporate geo-caching into LabradorLife
c)        Curricu-Mart databank of developed curriculum materials for teachers
d)        Interactive gaming options for LabradorLife
e)        Ways to enhance inter- and intra-schools communications and networking using LabradorLife
Current Members of LabradorLife
The following is a list of all LabradorLife avatars. Most joined us as collaborators and observers when we travelled to Labrador this summer. The list will be updated regularly to reflect new members, and will be posted on the billboard in the Welcome Centre main building. We are hoping to establish a regular time for in-world informal meetings in LabradorLife, when Will and Evie will be available for virtual exchanges with anyone who joins us. Once a time has been decided upon for these gatherings, we will notify all avatars by email and also post the time on the LabLife Blog in the Welcome Centre. We also hope to convene focussed discussion groups and 'BarCamps' in LabradorLife, during which members can meet and workshop specific ideas and practices.
| | |
| --- | --- |
| Will McGrath | (Graduate Student, and LabradorLife designer) |
| Evie Plaice | (Co-Investigator, and LabradorLife designer) |
| Marie Grist | (Archaeologist, and Volunteer virtual world designer) |
| Tim Borlase | (Educator, Board of Governors, CURA) |
| Cory Ivany | (Program Specialist (7-12), Social Studies | Fine Arts | English Language Arts, Western School District) |
| Peter Ramsden | (Archaeologist, and former coordinator, CURA) |
| Hans Rollman | (Religious Historian, MUN and Co-Investigator, CURA) |
| Marlene Brooks | (Distance Education Learning and Teaching Support (DELTS). MUN) |
| Vince Walsh | (Maritime History Museum, CURA webmaster) |
| Kathy Farrell | (Teacher, St Mary's All Grade, Mary's Harbour) |
| Margaret Russell | (Teacher, DC Young School, Port Hope Simpson) |
| Roxanne Notley | (Board of Governors, CURA) |
| Tom Flynn | (Teacher, DC Young School, Port Hope Simpson) |
| Judy Chubbs | (Teacher, St Lewis Academy) |
| Kim Morris | (Principal,Henry Gordon Academy, Cartwright) |
| Ola Gatehouse | (Teacher,Henry Gordon Academy, Cartwright) |
| Kirk Anderson | (Incoming Dean of Education, MUN) |
NO COPYING OR QUOTING WITHOUT EXPRESS WRITTEN PERMISSION OF THE DESIGNERS.
Evie Plaice and Will McGrath are the designers of LabradorLife. Please respect our willingness to share this virtual world site with you while it is under construction. Contact us directly for permission to reference or quote our materials and to request further information. Otherwise feel free to share comments with us on the LabLife Blog.